By now, parking guidance and information systems need no introduction. Parking guidance systems can be found in nearly every country and they are gaining popularity with many shopping malls, casinos, airports, hotels, corporate buildings and residential apartments. In fact, most new projects in Europe are specified with Parking Guidance System at the design stage. Also retrofitting projects are on a steady increase.
The main functions of a Parking Guidance System are:
Data collection from each bay and/or each Entrance/Exit.
Real-time parking availability indication:

Above each and every parking bay using space indicators.
On the parking floor using way-finding devices such as Numeric displays, Arrow signs, Traffic lights etc.
In a control centre using a PC screen.

Data logging.
Data analysing and presentation.
Parking Guidance System offer a few benefits to the drivers and to the managers:
They assist drivers in finding parking quicker and easier.
They minimise congestion and at the same time maximising the occupancy.
They provide much needed information, real-time and statistical.
The Joint Ventures Electronic Services Diamond Parking Guidance System is a cost effective, modular parking management system.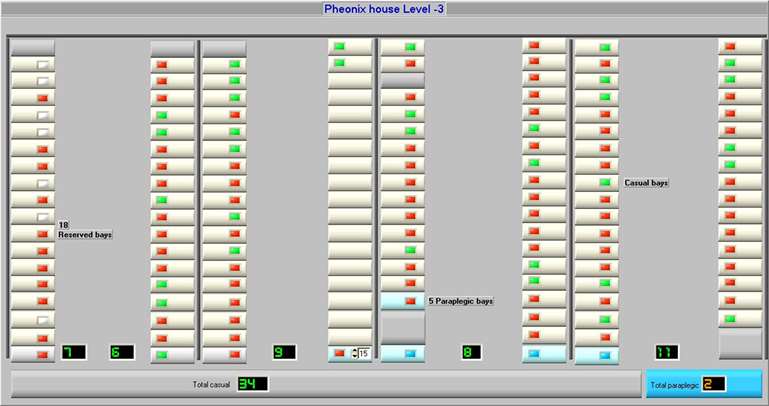 Besides its main functionality, the JVES Diamond Parking Guidance System hosts a few unique features not found in most other systems:
The most accurate system – We guarantee 99.9% accuracy but we observe next to 100% accuracy at our sites.
The greenest system available – The Diamond PGS consumes less than 300mW per sensor. To the extent that we know, our nearest competitor consumes more then three times this power.
The most visible system employing ultra high brightness, oval LEDs with carefully designed diffusers we provide a true 360 degree elliptical light-spread with no dead spots.
The Diamond PGS is a true plug and play system. Adding sensors and/or way finding devices at any stage does not require any addressing, commissioning or coding. Simply:

Connect the additional devices.
Send a "Scan" command.
The new device becomes operational.

The easiest to install system. The Diamond PGS comes with a full installation kit, JVES has developed a unique trunking system with a full accessory set specially designed for the installation of its PGS. This results in a neat, aesthetically pleasing system with a professional look.
The Diamond PGS is offered at the most competitive price - A combination of innovative design with heavy investment in tooling and quick installation makes the JVES system the most cost effective system available.
In addition to these features the following must also be noted:
The Diamond PGS operation, including all the way finding devices are totally independent of the ControlRoom and operates based on its embedded intelligence. Generally ControlRoom main function is data collection and displaying. It needs not interfere with the operation.
Each zone can operate and control all its way finding devices totally independent of the greater system.
Complete control over the space indicators for added functionality. Each space indicator can be set to blink, be permanent red green or off. Also the intensity of each bay can be controlled.
An extensive on going real-time self-test algorithms with automatic technician notification via SMS should any device report a fault or degradation.
The Diamond PGS can be integrated with other systems via easy to implement TCP protocol, DataSocket, XML and/or DLL.
Joint Ventures Electronic Services has developed and is manufacturing the entire system! Including all its hardware, firmware, software and mechanics. Providing the customer with a clear indication for future support.